Sustainable Construction Barricades
You're focused on the job getting done the right way, on time and on budget, and don't think about the fact that most drywall barricades end up in a landfill when all's said and done. Thankfully, sustainability is built into the core of our barricades and has been since day one.
Barricades, by design, are temporary products; they're built when construction on a site begins and torn down when a project is completed. But that doesn't mean they have to become trash when a project is finished. Our barricades, by design, are entirely modular, and are made of only the highest quality materials. They're also reusable and rebuildable, living a life long beyond one project, and are 100% recyclable. By using the Boston Barricade instead of a drywall barricade on average you will save one ton of waste from the landfill. Are LEED points important to your construction project? Get in touch with us to learn more.

Boston Retail Solutions is a recipient of SGIA's 2018 Sustainable Business Recognition award. SGIA supports the implementation of sustainable practices throughout the industry and we are honored to receive this recognition.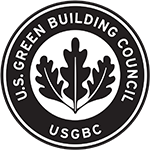 We are proud members of the U.S. Green Building Council.
Sustainability Policy
For over 30 years, Boston Retail Solutions has been the leading provider of modular construction enclosures and graphics. Providing environmentally friendly graphical barricade solutions to retailers, mall developers, contractors and more.
Boston Retail Solutions is dedicated to environmental stewardship. We work to continually improve our practices and operations to make them more sustainable. We collaborate with clients to help them innovate and create more sustainable communication graphics, advertising, and modular barricade systems.
Boston Retail Solutions commits to the following:
Implement systems to monitor and comply with all applicable environmental, safety & health, and labor laws
Reduce waste resources through source reduction, reuse, & recycling
Work with customers, suppliers & sustainability innovators to develop and offer more sustainable substrates, products, packaging, and transportation
Minimize the use of electricity, fuels, and water
Include pollution prevention & employee safety in technology decisions
Share our sustainability improvements with customers, suppliers, and employees
"They are able to take care of things from beginning to end - barricade, installation and graphics. The company is a pleasure to work with."

"They just get it and they specialize in what they do and have it down to a science. This allows me to have no extra concerns and nothing to worry about."

"One stop shop, project management is exceptional, my favorite vendor. Quick to respond, knowledgeable, knows every mall situation."

"You guys make my life so much easier. Your project management efforts are always spot on and both your barricade and graphics teams do a really good job for Forever21. We are delighted to work with you. Keep up the great work!"

"They are a great company to work with and I would highly recommend them. Our account team has always been a pleasure to work with."

"Working with BRS became a real point of convenience as the barricade and installer comes from one company; this arrangement allows you to do the barricades and graphics in the same night."
"Before using BRS contractors build the barricade and we used another company to install the graphics. We selected Boston Retail Solutions because they do it all. It's been an excellent experience."

"Boston Retail Solutions is right there. This was not always possible - before too many different players handling small segments. BRS handles the entire process more quickly and it's seamless."

"They are an excellent partner - like an extension of who we are. We work together and they work with me, not against me."

"Team, I just wanted to take a moment this morning to thank you. Your work last night was very appreciated. The communication, the photos, and your execution were right on target! We appreciate the partnership."
"Thanks for your partnership, your dedication to moving quickly and helping us resolve the operational challenges (floods, resets, timeline changes, scope changes, etc) while moving at the speed of thought to allow us to move forward. Boston Barricade exceeded our expectations and were a great group of partner to collaborate with on this project."

Our team is ready to start your barricade project.
Contact us for solutions that are On Brand. On Time.